Get in Touch!
Call today to schedule your personal experience to view The Delaney of Bridgewater and all the progress being made as our community comes to life.
Our team can't wait to meet you, and we're happy to provide an experience that meets your needs. Whether you choose to meet with our passionate team virtually via phone or video chat platforms, we are here for you.
We make it easy to connect using the technology that you're most comfortable with, while still providing you with the full community experience. Need help navigating a video chat app? Our team members are experts in supporting seniors and their family members with using technology to connect.
We're excited about the opportunity to get to know you and show you around our community. Give us a call today or submit your information to schedule a visit with a member of our team.
The Delaney respects your privacy, read more about our Privacy Policy.
* Represents required fields
Residents Love The Delaney (You Will, Too!)
"We brought my mother in law to The Delaney after experiencing two unpleasant places. When we came, we were thrilled at the living arrangements, the caregivers and the food. She is a picky eater and has gained 7 pounds since she has been living here! The residents are all so friendly and accepting. We haven't experienced any negative happenings what so ever. My mother in law is so happy here and we are so happy that God made a way for us to come to The Delaney!"
"Things are great at this facility. Highly recommend!"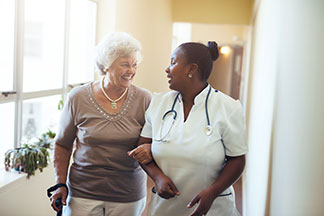 "The staff at the Delaney feel more like extended family than paid professionals, as they help us to keep mom feeling safe, loved, and valued in these later years."
"Mom is receiving excellent care here. The nurses, care givers, and dining room staff are well trained and very caring. And my mom loves her new home. She enjoys the many activities, the excellent food, her new friends, and her beautiful apartment."